2022.06.23
Volume 5 MTL Announced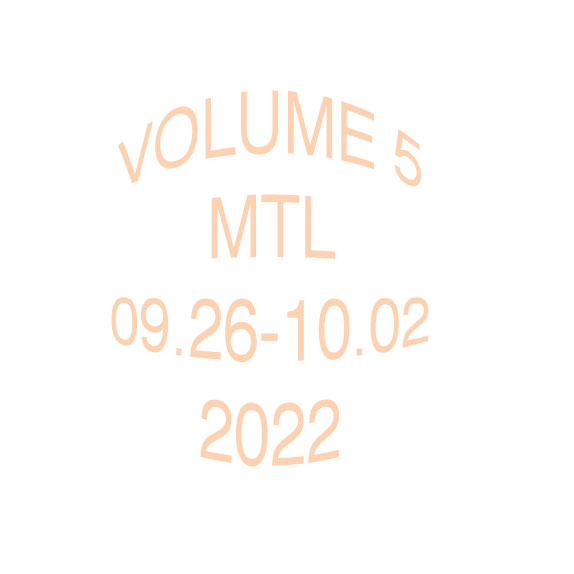 We're excited to announce that the Volume 5 MTL festival and conference devoted to Art and the Book will be held from September 26 to October 2, 2022, culminating in an Art Book Fair at the SAT (Société des arts technologiques) on October 1 and 2 (Free Admission).
Volume 5 MTL will present a variety of activities that showcase the work of artists and publishers in the art book and art publishing field. These activities will include artist presentations, round-table discussions, exhibits, workshop visits and more! For the artists, publishers and actors of this sector, Volume 5 MTL is not only an opportunity to sell books at the art book fair, but also to network, discover the work of your peers and share knowledge and news.
Applications for tables at the fair will be opening on July 8, 2022 on this website.
In the meantime, if you'd like to propose ideas for programming send us an email! Please include the names and contact information for any artists, collectives or potential other participants and partners that you think could help fill out our programming.
Stay tuned for more information about Volume 5 MTL to be announced later this summer!
Volume 5 MTL is an ARCMTL production made possible in part thanks to the support of the Canada Council for the Arts, SODEC and the Conseil des arts et des lettres du Québec.
2021.09.24
Volume 4 MTL Programming
Volume 4 MTL detailed programming is available here!
There will be a physical fair at the Société des Arts Technologiques (SAT), 1201 Boul. Saint-Laurent, Montréal, on Saturday, October 2 and Sunday, October 3, free to the public from noon to 6 pm, with exhibitors and attendees respecting all safety measures in effect. Join the Facebook event here.
The very boundaries of what a book can be will be explored in this edition of Volume focusing on the potential of new technologies such as AI, Augmented Reality (AR) and electronic publishing on books by and about artists.
Among the artists participating in the programming are Walter Scott, Moyra Davey, Ken Lum, Annie Descôteaux, Harry Dodge, Sky Goodden, Dana Michel, Michael Nardone, Maryse Larivière, Tanya Lukin Linklater, Milutin Gubash, Daniella Sanader, Fabiola Carranza and Amy Ching-Yan Lam to name but a few ! You can also expect presentations of books and works using Augemented Reality, an overview of the Mutations: The Book in the Digital Age project by TOPO ( Centre de création numérique ), as well as more programming in person and through web streaming during Art Book Month in October 2021.
2020.10.20
Three Star Books – Satellite Editions
We're pleased to present you our very first capsule from our Satellite Editions, featuring Three Star Books, based in Paris. Three Star Books produces books and editions with the finest contemporary artists. The term' "Artist's book" is interpreted loosely, as the final product often exceeds the physical and conceptual parameters of publishing.
See it here, and stay tuned for more capsules being released very soon.
2020.10.17
Art Book Month continues – Vancouver Art Book Fair
Volume 3 MTL and Art Book Month 2020 are not over! The Volume 3 team is busy finalizing more programming as well as adding bilingual subtitles to the recordings of our live programming from October 1 – 4 before posting them online. In the meantime, here's a little teaser of the Satellite Editions to be released throughout the rest of the month; a series of interviews, studio visits, and demonstrations with artists and publishers locally and internationally.
There are a LOT of other activities taking place during Art Book Month and especially this weekend! The Vancouver Art Book Fair runs from October 17 to 18, with a program of activities and workshops online, and a virtual Art Book Fair as well.
We're adding more publications all through Art Book Month to our own Virtual Fair page here, filled with incredible new and recent artists' books and books on art. Happy Art Book Month everybody!
2020.09.16
Programming preview Volume 3 MTL
The third edition of Volume Mtl: Art and the Book, Montreal's celebration of art publishing and artists' books, is coming back October 1-4 in hybrid formats. Artists' talks, interviews, gallery tours and studio visits will be streamed online, and a virtual fair will be streamed online on Saturday, October 3rd, showcasing books from artists' and publishers from around the world.
In partnership with the Vancouver Art Book Fair, Volume 3 Mtl will also launch Canada's first annual Art Book Month, presenting online programming throughout October.
This year's theme centers around the processes of creation: handmade and laborious; quick and automatically; digitally and aided by machine intelligence; based in research and in the aim of education; the fair will present a gamut of practices and focus on the work behind these books.
Highlights include Amaranth Borsuk, Seattle-based professor, author, poet, and artist, in conversation with Natahan Brown, founder-director of the Centre for Expanded Poetics at Concordia University; five of Brosuk's bookworks will be on view at the Anteism Project Space in a special exhibition; a presentation of the Canadian Centre for Architecture (CCA)'s artists' book collection by their Book Curator, Viveca Pattison; programmer-poet Jhave will present an artists' talk and accompanying participatory project at the Anteism Project Space on the trajectory of his work using Artificial Intelligence tools to create and edit poetry; artist Clara Congdon will give a talk on her artist book practice incorporating textiles; a tour of the McGill Rare Books Library; artist and writer Jim Holyoak discussing his nineteen-volume artists' book, Book of Nineteen Nocturnes; and numerous virtual visits and tours of production studios in Montreal and elsewhere.
Even more events will be announced shortly for October's Art Book Month! We hope you'll join us for the streamed programming events and for the Volume 3 Mtl fair.
2020.08.26
Volume 3 Call for participants
The third edition of Volume Mtl: Art and the Book, Montreal's celebration of art publishing and artists' books, is coming back October 1-4 in online-adapted formats. Programming will be presented online alongside a physical fair at the Société des Arts Technologiques (SAT), 1201 Saint-Laurent Blvd., on Saturday, October 3rd, with physical distancing measures in place and a limited number of exhibitors and attendees. Even with these new limitations, Volume 3 Mtl remains a unique occasion to create links within the international milieu of artists' books and art publication in the only bilingual metropolis in North America.
For its virtual fair, Volume 3 will promote up to three new titles or artists' books per exhibitor on a special new section of its website and on social media platforms. The application form for the physical and virtual fair is now online here. The deadline to submit an application is September 24, 2020, midnight (EST), but don't wait before sending in yours!
We're using current distancing constraints as an opportunity to develop virtual connections with international partners and other book fairs around the world. This fall, Volume 3 Mtl is partnering with the Vancouver Art Book fair to launch Canada's first Art Book Month. Shared programming activities will continue throughout October and will bring together the art publishing communities across the country.
Don't miss this opportunity to send in your application and be part of this different and inspiring version of Volume! If you have any questions, don't be shy to contact us by email at info@volumemtl.art.